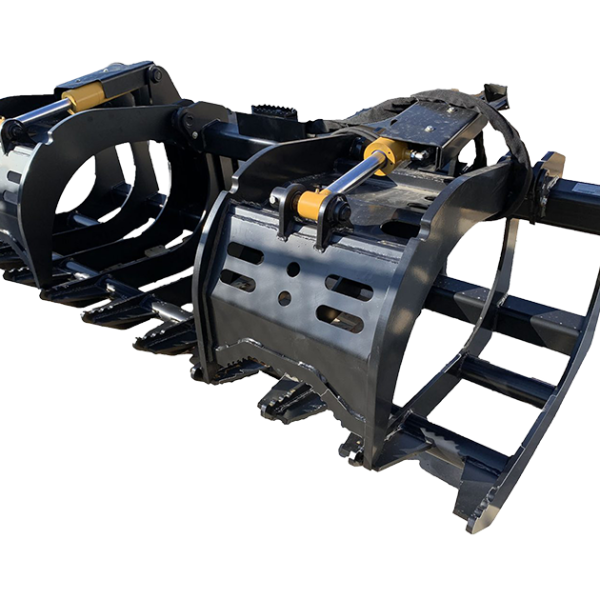 Ironcraft Severe Root Grapple
Contact us for price
Stock status: Call Store for Availability
2515 Flex Wing Cutter wins Editor's Choice Award! View More >
Dealer Locator
The Severe Root Grapple is the grapple of choice for those with machines over 80 HP needing the strongest root grapple available. The Severe Root Grapple handles more material, weight, and power than our other grapples.
The Severe Root Grapple boats 5/8″ continuous bottom tines, 3/4″ top tines, and incorporates 4″ square tubing in the frame. It also features enclosed hydraulic cylinders and shafts.
The IronCraft Severe Root Grapple can handle pretty much anything you want to go up against. The rod and cylinder covers come standard on the Severe root grapple, with diamond plating giving it the look it so deserves, which is "Tough". This root grapple can pick up heavy logs, and big amounts of debris material without hesitation. It is the one to have for big storm cleanups and natural disasters. You can rest assured that the IronCraft Severe root grapple will last for many years to come.
Available Colors:
Specs
Model:
We've Got You Covered.
Find a Dealer near you to get started.
Contact
7 Rocky Mt Rd,
Athens, Tennessee 37303
sales@ironcraftco.com
423-405-5150
We Are IronCraft
Our mission is to provide the most value on the market, to unearth the best in our employees, and to excel in our field so that our customers can conquer theirs. IronCraft's dedicated employees excel at building equipment that can handle the tough jobs.
We're Social
COPYRIGHT © 2023 IronCraft, Inc | ALL RIGHTS RESERVED
SITE DESIGned & Maintained by
3-Point Tractor
Attachments
By Attachment
By Application
Skid Steer & Loader
Attachments
By Attachment
By Application
Skid Steer Hydraulic Flow Finder
Stay Up to Date: