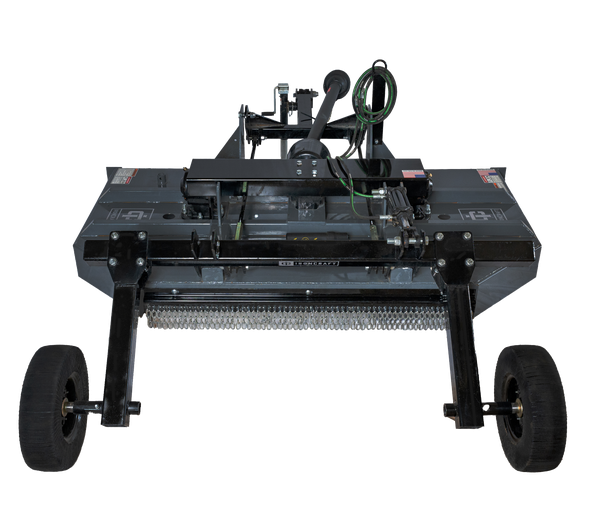 Ironcraft 1800 Series Heavy-Duty Dual Spindle Cutter
Contact us for price
Stock status: Call Store for Availability
2515 Flex Wing Cutter wins Editor's Choice Award! View More >
Dealer Locator
These Heavy-Duty Dual Spindle Cutters are designed for heavy-duty applications such as weeds, grass, and brush up to 3" diameter. These cutters are designed to work with 42 or 52 minimum hp tractors, and are available in 94" and 117" widths. The cutter uses dual spindles with two free-swinging blades each, which reduce the shock of impact when a stationary object is contacted. A slip clutch and dual shock couplers protect the gearboxes and drivelines from damage.
Standard equipment includes driveline shields and clutch shields. Front and rear chain discharge shields are available. Available in lift-type and pull-type models.
Available Colors:
Specs
Model:
We've Got You Covered.
Find a Dealer near you to get started.
Contact
7 Rocky Mt Rd,
Athens, Tennessee 37303
sales@ironcraftco.com
423-405-5150
We Are IronCraft
Our mission is to provide the most value on the market, to unearth the best in our employees, and to excel in our field so that our customers can conquer theirs. IronCraft's dedicated employees excel at building equipment that can handle the tough jobs.
We're Social
COPYRIGHT © 2023 IronCraft, Inc | ALL RIGHTS RESERVED
SITE DESIGned & Maintained by
3-Point Tractor
Attachments
By Attachment
By Application
Skid Steer & Loader
Attachments
By Attachment
By Application
Skid Steer Hydraulic Flow Finder
Stay Up to Date: